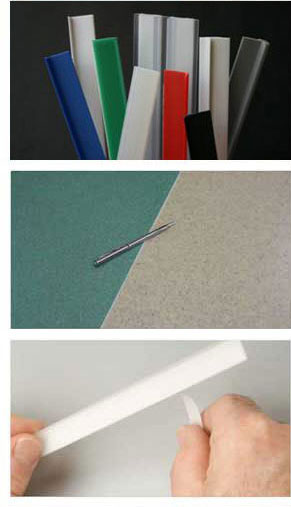 Premolded plastic termination strips are used in conjunction with hand troweled or self-leveling resinous flooring systems. The PTS strips are adhered horizontally to the wall surface to form a controlled edge for the placement of the formed cove or glued to horizontal substrates for controlled termination of the flooring systems.
Advantages
Ease of application
Flexible plastic allows quick on-site application
Available with or without self-adhering tape
Controls height and thickness of edge
Simple Intructions
Apply to clean and sound surface
Remove protective strip from tape and adhere PTS strip at required height or glue with appropriate adhesive
Cut strips to length with ordinary jobsite tools
Snip top edge in a "V" to allow strip to bend for outside or inside corners
COMPONENTS: All of the PTS strips are available in Clear and 6 standard colors - Gray, Red, Blue, White, Black and Green. Other colors are available upon request. PTS strips are manufactured in 5' lengths. Other shapes and configurations are available upon request. Contact us for sample board.

Order Now